The OACT Secondary School Championships are held annually, usually late in the Saturday Metro series. Any ACT High School student may enter. There are no selection requirements, however it's recommended that the student has some orienteering experience, such as having attended a school orienteering coaching session or has done two events before.
Once the date of the event is confirmed, it will be posted on the Events page. 

2018 Secondary School Championships
The date for the 2018 Championships hasn't been finalised yet.
| | |
| --- | --- |
| 2003 | Canberra Grammar School |
| 2004 | St. Edmunds College |
| 2005 | Canberra Grammar School |
| 2006 | Canberra Grammar School |
| 2007 | Canberra Grammar School |
| 2008 | Canberra Grammar School |
| 2009 |   |
| 2010 |   |
| 2011 |   |
| 2012 |   |
| 2013 | Gungalin College & Canberra Grammar |
| 2014 | Canberra Grammar School |
| 2015 | Canberra Grammar School |
| 2016 | Canberra Grammar School |
| 2017 | Canberra Grammar School |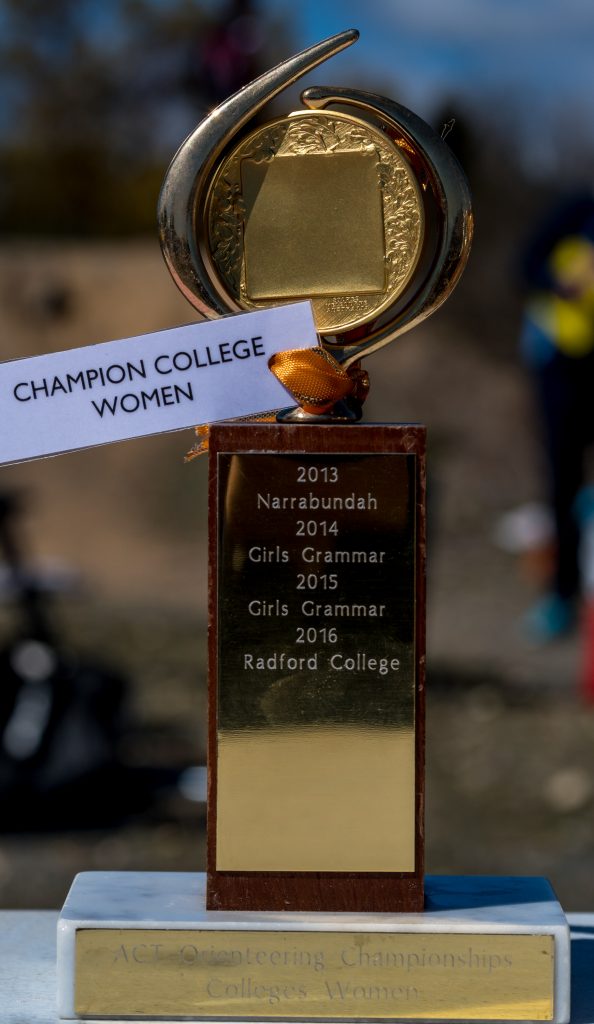 | | |
| --- | --- |
| 2003 |   |
| 2004 |   |
| 2005 |   |
| 2006 |   |
| 2007 |   |
| 2008 |   |
| 2009 |   |
| 2010 |   |
| 2011 |   |
| 2012 |   |
| 2013 | Narrabundah College |
| 2014 | Canberra Girls Grammar School |
| 2015 | Canberra Girls Grammar School |
| 2016 | Radford College |
| 2017 | Canberra Girls Grammar School |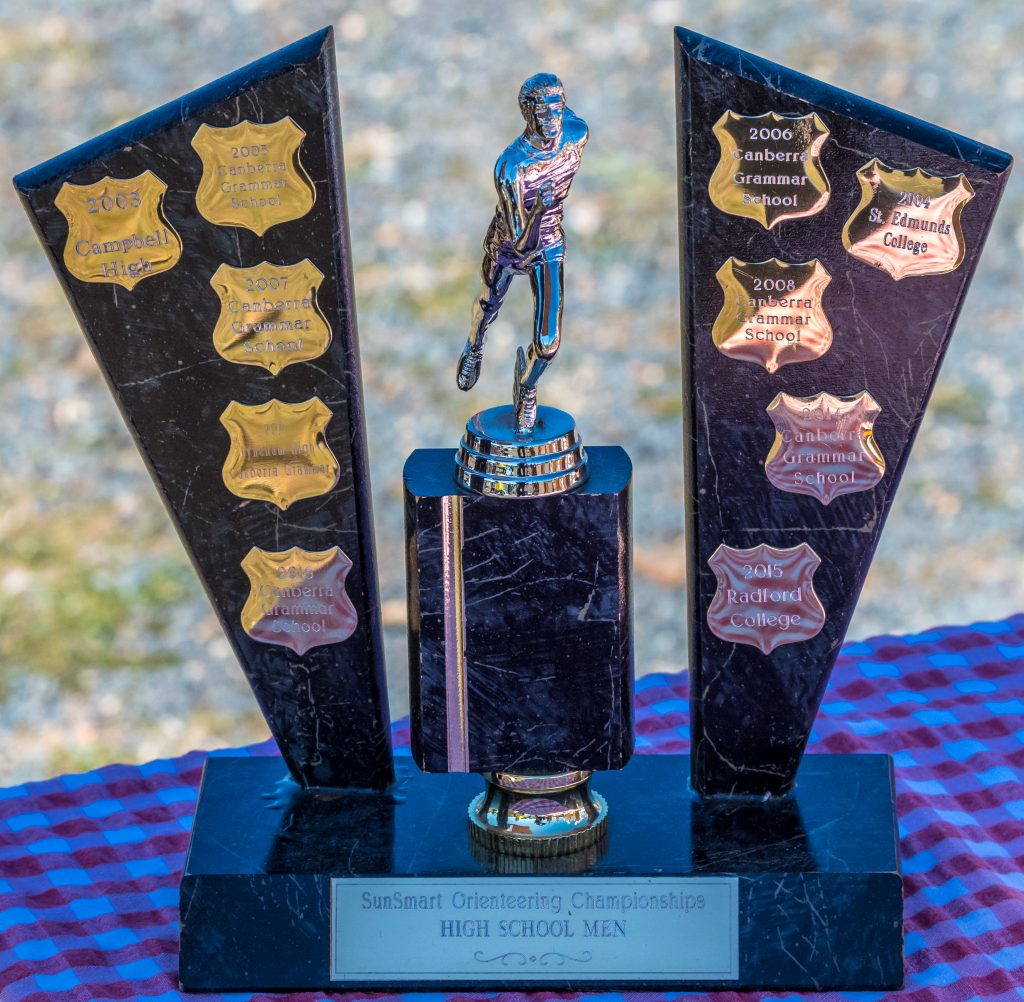 | | |
| --- | --- |
| 2003 | Campbell High |
| 2004 | St. Edmunds College |
| 2005 | Canberra Grammar School |
| 2006 | Canberra Grammar School |
| 2007 | Canberra Grammar School |
| 2008 | Canberra Grammar School |
| 2009 |   |
| 2010 |   |
| 2011 |   |
| 2012 |   |
| 2013 | Lyneham High & Canberra Grammar |
| 2014 | Canberra Grammar School |
| 2015 | Radford College |
| 2016 | Canberra Grammar School |
| 2017 | Radford College |
Champion Women High School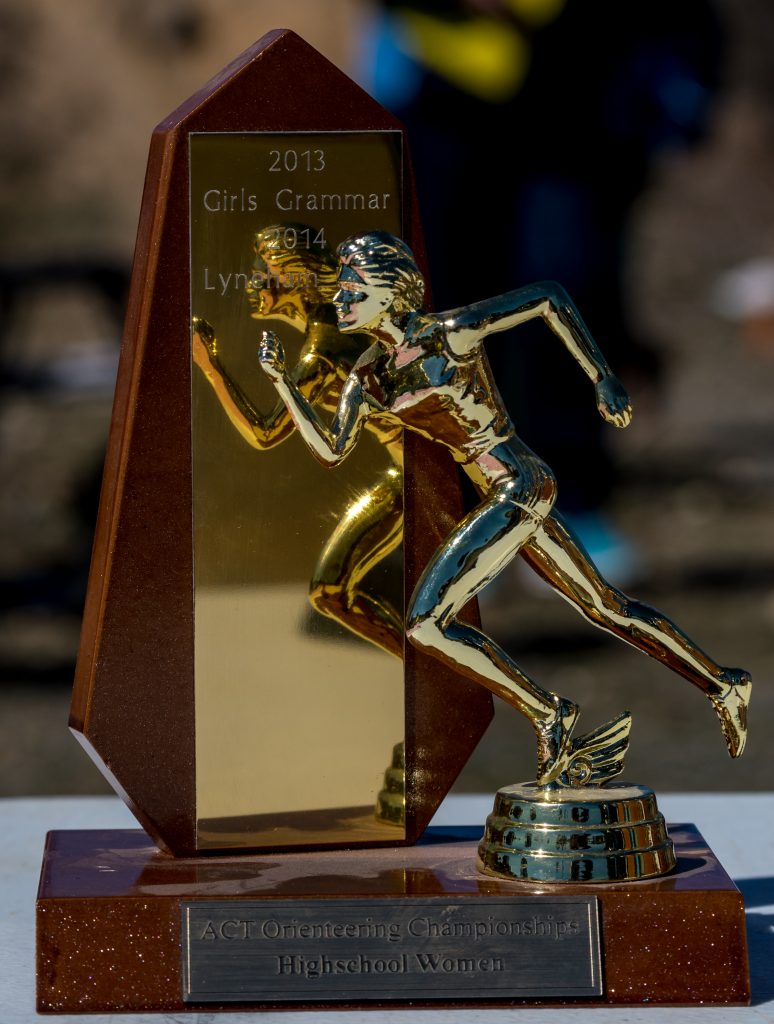 | | |
| --- | --- |
| 2003 | Campbell High |
| 2004 | St. Edmunds College |
| 2005 | Canberra Grammar School |
| 2006 | Canberra Grammar School |
| 2007 | Canberra Grammar School |
| 2008 | Canberra Grammar School |
| 2009 |   |
| 2010 |   |
| 2011 |   |
| 2012 |   |
| 2013 | Canberra Girls Grammar School |
| 2014 | Lyneham High |
| 2015 | Canberra Girls Grammar School |
| 2016 | Lyneham High |
| 2017 | Lyneham High |
 
M12
M14
M16
M20
2003
 
 
 
 
2004
 
 
 
 
2005
 
 
 
 
2006
 
 
 
 
2007
 
 
 
 
2008
 
 
 
 
2009
 
 
 
 
2010
 
 
 
 
2011
 
 
 
 
2012
 
 
 
 
2013
 
 
Ewan Barnett
Canberra Grammar
Bryce Anderson
Gungahlin College
2014
 Thomas Hyslop
Telopea Park
 
Jesse Piiroinen
Marist College
Stephen Melhuish
Canberra Grammar
2015
Tom Harryson
Alfred Deakin
 
Patrick Miller
Campbell High
Ewan Barnett
Canberra Grammar
2016
Will Madl
Canberra Grammar
Andrew Kerr
Radford College
Tristan Miller
Lyneham High
Jesse Piiroinen
Marist College
2017
Alex Derlacki
Canberra Grammar
David Stocks
Radford College
Andrew Kerr
Radford College 
Ryan Stocks
Radford College 
Women Individual Champions
 
W12
W14
W16
W20
2003
 
 
 
 
2004
 
 
 
 
2005
 
 
 
 
2006
 
 
 
 
2007
 
 
 
 
2008
 
 
 
 
2009
 
 
 
 
2010
 
 
 
 
2011
 
 
 
 
2012
 
 
 
 
2013
 
 
 
Simone Edwards
Narrabundah College
2014
 Amelie Allen
Canberra High
 
 Lucinda Antcliff
Lyneham High
Tara Melhuish
Canberra Girls Grammar
2015
 
 
 
Tara Melhuish
Canberra Girls Grammar
2016
Sophie Lhuede
Lyneham High
Zoe Melhuish
Canberra Girls Grammar
Caitlin Young
Lyneham High
Tara Melhuish
Canberra Girls Grammar
2017
Jennifer Lim
Canberra Grammar
Justine Hobson
Radford College
Zoe Melhuish
Canberra Girls Grammar
Tara Melhuish
Canberra Girls Grammar