Sporting Schools is a $160 million Australian Government initiative designed to help schools to increase children's participation in sport, and to connect them with community sporting opportunities.
To arrange an orienteering program for your school in the ACT or surrounding region of NSW, first please register your school as an official participant in the Sporting Schools Programme. Then please email  to notify us that you have applied for orienteering at your school. Primary Schools can usually receive these activities FULLY FUNDED under the current programme.
OACT has experienced instructors ready to deliver "Map Ready" teaching focused on map, outdoor & spatial skills. Our programmes are suitable for Years 3 – 6 and Years 7 – 12 and can be delivered to meet your school's curriculum in PE / Maths / Science / Geography or Outdoor Ed Classes.
Costs are provisional estimates only but range from $2.50 per child depending on the number of students and the spread of classes over each day.  Primary Schools, both Government and Non-Government, that apply for Sporting Schools funding can usually recoup most or all of these costs. We can explain how.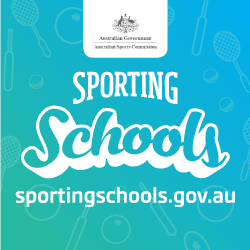 Sporting Schools brings together schools and sports to help get Aussie children active in their local communities. Sporting Schools is open to all Australian primary schools, and with quality programmes developed by more than 35 national sporting organisations, it offers a fun and supportive environment for children and coaches. Orienteering is one of the sports that is included in this program – see the Orienteering page on Sporting Schools website.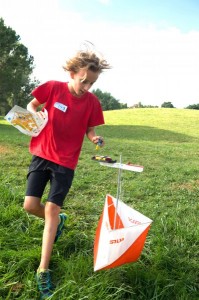 All the options below also apply to our Body & Brain Orienteering coaching in schools. If you want to run Orienteering at a school, independently of Sporting Schools, please follow the same booking procedure.
Required Information
1. Name of school and address
2. Contact details (include mobile and after hours number please)
3. Year group/s and approx. numbers in each class
4. Preferred dates and times (include at least one alternative)
5. Your preferred inclusions: Map Ready Package or option A, B, C, D, E, F
    (if unsure we will assist)
We will then email you back a quote, confirm your booking and arrange payment options.
School
Map
We make a high quality digital colour orienteering map of the school
Experienced
Instructors
Experienced instructors teach essential orienteering skills to the children
Mini
Event
We hold an exciting mini event around the school grounds
Professional Development
We teach teachers to be able to present the sessions
Permanent Course
We design a permanent course to be installed at the school
Orienteering Equipment
We provide all the necessary special equipment.
see below for detailed explanations of all these options
We will make a high quality digital colour orienteering map of your school
Complete with scale, legend, north lines and title
Ideal for Maths, Geography, and Graphics curriculum requirements
A map of your school is optional but highly recommended
Maps often need minor updates to reflect construction and vegetation changes
Many schools are already mapped but may need updating. We will advise
Cost: $400-600 + GST depending on size and complexity of your site. This covers copyright for 3 years
Sometimes we can use an existing map in a nearby park or nature reserve. We can discuss this option.
Option B – Experienced instructors teach essential orienteering skills to the children
At your school or in an adjacent park or reserve
Most schools have the first sessions at the school and move to a local park for the last week
A one day session for the whole school is an option as is a single visit to one class
However a series of weekly classes is much more effective
Our most popular option is the four week course but you can choose as many weeks as you like
We can teach both map and compass work – we provide all compasses
Cost:  From $2.50 per child per week. See end of article.
Option C – An exciting mini–event at your school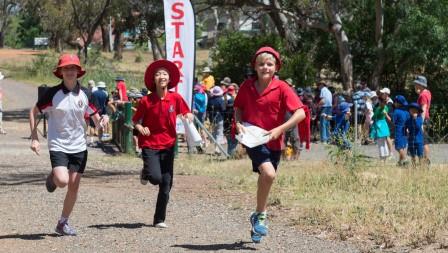 This is a very popular and exciting finale to a series of weekly sessions.
Mixed relay teams of 4 – boys and girls on an equal footing
The fastest team may not be the winners as accuracy is also important
The winning outcome is never known until the last moment
Cheering and excitement guaranteed!
Best done with a group of about four classes over two hours
Cost: From $2.50 per child per week. See end of article.
Option D – Professional Development
We visit your school and teach your teachers how to orienteer.
One hour – a brief introduction. Cost $300 + GST
Two hours –  At the end of this session your teachers can run a basic three week syllabus for their class. Cost $400 + GST
This option is best combined with Option A to include a high quality digital colour orienteering map of your school.
Option E – We build a Permanent Course at your school
A permanent course and a series of laminated maps with pre-set courses.
This option provides a great opportunity for your school to have an enduring orienteering program for future classes at low cost. Several schools have chosen this option.
We design the courses – easy , moderate and hard – and make the maps
Your grounds staff can install the unobtrusive small plastic signs (or we can install)
Cost: We will give you a quote depending on your needs. Please email us.
Option F – Orienteering equipment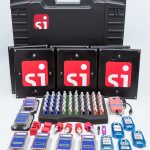 We provide all equipment for the sessions we deliver. When appropriate this includes electronic timing and printouts. There is no need to purchase anything, but we do ask you to either photocopy or pay for printing (and ideally laminating) of any colour maps – one per student. We can guide you as to suitable equipment (for example flags and punches) should you wish to buy some for your school to use in future.
Costs – from $2.50 per child
All costs are estimates only and exclude GST. You can apply for funding from the Sporting Schools programme. This is your responsibility.  We will provide a detailed quote after we receive your email. Printing costs are extra (usually equivalent to $1 per child per session) but by laminating maps you can cut down on these costs.  A popular option is to book us for 2 hours for up to 4 x 30 minutes (or 3 x 40 minutes) classes of 25 children. This works out at about $2.50 – $3.30 per child per session depending on which option you choose. Our instructors will need adequate breaks of course. For larger groups or parallel classes an extra instructor will be required. Our price includes state of the art electronic timing, all preparation and coach transport, and use of equipment. Our enthusiastic instructors all have WWVP cards and will prepare for each session by designing courses, labelling maps, placing control points in the field and collecting them again.
Locomotion / Spatial / Dodging / Balance / Map Reading / Learning through movement / Scale / Legend / Orientation / Symbol Recognition / Compass / Outdoor Challenge /  Accuracy rather than speed / Teamwork.