Introducing Kas Gregory – Winner of World Maze Race 2021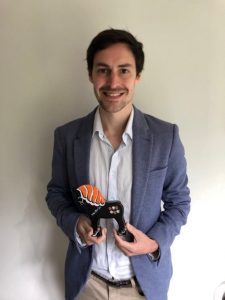 In 2021, Kas Gregory was a local Newcastle Summer Orienteering Series and Bold Horizons Champ as well as being crowned the Senior Men's World Champion. Go Aussie!
In 2022 Kas moved to Canberra and became active in the ACT orienteering community. Before Easter I sat down with Kas and found out all about him. Here is Kas Gregory's story.
I think you are from the country? How did you get into Orienteering?
Yes, I am from Armidale in NSW. Roughly halfway between Sydney and Brisbane. A "city" of about 25,000 people, but with an orienteering club! I initially got into Orienteering through my older brother Boahdan. He was doing well with it, and so I started to go along and began to really enjoy it.
Where was you your first orienteering event?
I can't recall exactly, quite possibly Dumaresq Dam near Armidale. Though perhaps one of the most memorable events from the early days of my orienteering was a State League in Qld (often the closest events for Armidale). I believe I was running a Green course (named "Easy" here in ACT), and this was in the days of punch cards. I'd had a great run, which might have won me the event for the first time ever, but I'd got a mispunch without really realising how. I was so so disappointed.
What was memorable about orienteering when you started?
I was a runner prior to picking up orienteering, and I recall finding it easy to run hard while orienteering because you were focused on navigating to the next control as fast as possible, rather than the pain. It also felt fast sometimes running through the trees. I think overall though, was the sense of freedom you get running through the forest. You don't have to follow the beaten track, usually its shorter not to.
When were you first selected to represent your state?
I think the first time was possibly when I was in Year 7. I remember going to a NSW Junior Squad Christmas Camp and thinking all the older members were so cool. I think this might have been Matt Parton's last camp, and I also met Josh Blatchford there, who's become an incredibly close and supportive friend to this day. I had so much fun at the camp I just had to keep training so I could go along to more. Training camps were the best!
Can you share some memories…..
Many a scavenger hunt, many an attempt to fit as many people as possible in a phone booth.
Many visits to Beechworth Bakery.
Watching JWOC in Dubbo (2007). Vanessa and Simon getting podiums!
There was a push up competition with Aaron Breed. And Lady Gaga was very popular at the Schools champs in Qld (I think 2008)
"Shake-it" was song of the camp for a NSW Junior Squad Camp in Orange. It also snowed during that camp. We decided to run some of the training shirt-less to be "tough". I also won a rice-cream eating contest against Rob Bennett.
The time between Christmas 5 days and Oceania Champs (2012/13) I spent New Years in Melbourne with Glen Charlton, and managed to miss a train by a minute then my 6am flight to New Zealand. I initially thought I could run into town if I followed the direction of the train line. I ran that direction for 15km before (pre smart phone), turns out we were about 40km from Southern-Cross station where my bag was in a locker. By the time I managed to get a taxi (via 1800MUMDAD) it was too late to have a chance at making the flight. Stressful… but a good learning experience(?)
2L milk challenges (for recovery) with Olle Poland and Ian Lawford. It made your whole body cold from the inside. Not comfortable.
I'm almost certain half the squad could have re-enacted Anchorman.
And many many more. Although I'd better not continue, or this will become a Memoir. And I should probably catch a bit of sleep before the Easter carnival starts tomorrow.
When were you first selected to represent your country?
I was first selected in my final year of Juniors in 2012, after trying for a few years, but not quite managing to crack the competitive top 6. I was incredibly lucky when I was selected! About 6 weeks prior to the selection trials I developed metatarsalgia which flared up around 14km into my weekly (at the time) 21km run. I was sidelined from running for at least the next 4 weeks. I brought a bike (which I actually still use to get round uni today) and adapted a lot of intervals to that, and I also began deep water running, and a lot of rehab exercises. Training in my mind got very boring those weeks, but it paid off because I managed to come into the trials quite fit. However, I still nearly ruined my chances at selection in the Easter Prologue, I had a brain explosion and ran straight from control 8 to 10 (possibly a different combination of controls), but I still remember the race. It was a bush sprint near Stanthorpe, Qld, and going through the spectator control I'd managed to catch up Kurt Neumann, someone I don't believe I'd ever beaten up until this point (and still didn't because of the mispunch). I somehow managed to pull it together and have ~ top 4 finishes the next three days, but I still wasn't sure. I was absolutely stoked when I got the call that I had made the JWOC team, with Olle Poland, Ian Lawford, Brodie Nankervis, Oscar McNulty and Alex Massey. While this was the first time I was selected, I actually competed first for the "Bushrangers" in an Australia vs New Zealand challenge prior to JWOC, but I recall this was a shorter turnaround from selection to competition. JWOC itself (in Kosice, Slovakia) was unforgettable. Hard to really put the experience into words. Living and competing against ~300 of the world's best orienteers for about a week, surrounded by your team was the sort of fun that is hard to replicate.
You achieved your doctorate when and where? Were you able to keep orienteering through your studies?
Yes! I was awarded my doctorate last year in fact. My PhD was in Quantum Chemistry with a thesis entitled "A quantum chemical investigation of Hofmeister effects in non-aqueous solvents". So basically I was looking at why different salts/electrolytes and minerals have different properties, by zooming in (~1 billion x) and looking at them on the atomic scale. I did this (mostly) in Newcastle, though spent 2021 in Armidale writing up my thesis from afar.
Orienteering was definitely a fluctuating sport for me throughout my studies. Initially in 2013 when I started undergraduate studies, Orienteering fell off the bandwagon for me. I let myself get enthralled by the campus lifestyle – which is perhaps a shame, because I was pretty fit when I moved (ran a 2:42 1000m race for the Hunter Track Classic on the weekend I moved). I then struggled to go to events for a little while, because I struggled to go and not be fit and competitive to win. In the past few years I have slowly brought it back into my lifestyle, and began prioritising it over work. I'm enjoying it and using it to get fit without worrying if I come last by an hour. I do absolutely like to push myself to improve again though – there's something a little more exciting when you're competing on a similar level to others.
What brings you to Canberra?
I moved to Canberra at the start of last year to begin a postdoctoral research fellowship with Professor Vince Craig in Physics at the ANU. I've since transitioned to Biology to work with Professor Ben Corry (used to orienteer for WA!) and his great lab. Really enjoying living in Canberra – hard to know how long it will be for, because location can be quite transient for an early career academic, but I am absolutely going to make the most of my time here while I can.
I see you at events from time to time, what is your preferred orienteering format – sprint, middle, long, relay??
I've always been a big fan of sprints. The fast pace of them where switching off for a second could cost you the race makes it so fun. You've got to really optimise every portion (and of course it helps if you can run 3min/km… which unfortunately is not me right now beyond about a minute). I suppose that is why I did well in the 2021 World Maze Race, it was only 1:13 of intense focus, and I could run and turn fast for that.
Do you see yourself still orienteering wherever you might land in the next chapter of your life??
I'd certainly like to – it's such a fun and friendly sport; and incredible for exploring a new place! It may depend on where the nearest local events are though. There's some chance I'll find myself overseas, and it could be great or terrible for access to orienteering.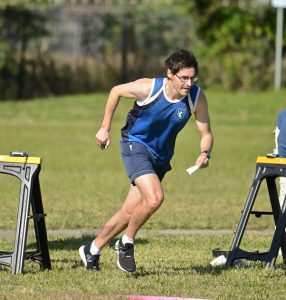 Can you please explain the Concept of World MAZERace
The same course in different places, conducted simultaneously around the globe!
Our race timing allows us to compare results at each of our events in Australia with those from around the World.
OACT will have a maze identical to mazes at all locations all around the world.
Race the maze and be the local, OACT or World Champion Maze Racer.
Or, just enjoy the mind and body challenge and make the most of the experience!
Toni Brown
OACT Development Officer
Canberra hosts World MAZE Race
For 2023 World Orienteering Day – 17th to 23rd May Canberra will stage a special free-fun-fast play in a MAZE! Known as World MAZERace it will be a great event to invite your friends and work colleagues to. Newcastle orienteer and inaugural MAZERace world champion Kas Gregory is our World MAZERace Ambassador. Try your hand at speed racing Kas, or just come along for a bit of MAZE fun.
Share the information flyer at your work or school.
Bring along some of your non-orienteering friends to have a go.
Canberra World MAZE Race will be on Sunday 21 May.
Turn up any time between 9am – 1pm
Patrick White Lawns (between the National Library and Lake Burley Griffin)
Bring friends and family for free-fast-fun play.