MTBO is back again thanks to ACT Mountain Bike Orienteering with Red Roos support. 2022 MTBO Series event #3 will take place at the West Stromlo area, starting from Stromlo Forest Park Western Carpark, Uriarra Rd on Saturday 3 September.
ACT MTBO Series is a Series for everyone! For those who have practiced MTBO skills for a while, for experienced mtbikers and orienteers, and for families and an absolute beginners. Come, try and enjoy!
Starts will be from 9:00am to 10:30am, with course closure at 1:00pm. The early start will allow competitors to take part in both of the day's MTBO and Foot-O events.
Four courses will be provided: Long (about 15-20km, 80 min, 300m climb), Middle (11-15 km; 70 min, 200m climb), Short (7-10km, 50min), and Novice (4-6km; 40min).
Map: West Stromlo, 1:10,000, 5m contours
Course Setter: Andrew Cheffers, Weston Emus
Organiser: Marina and Fedor Iskhakov, Red Roos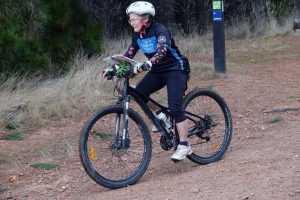 Courses will start off with a mixture of single tracks and fire trails. The single tracks are one-way, so take note of the arrows on the map and the signs on the trail. The fire trails are obviously both directional. The courses have been laid out with route choices and take note of the terrain because the climb can be long. All courses will have some climbs and fire trails can be unforgiving. Some areas are quite wet at the moment. The river crossings are passable although they can be quite muddy, so watch your line. MTBO are restricted to using tracks only although the (all) yellow areas on the map can be used. The control units will be placed on the side of the track. Control SI units have at least 1.5 meter range for SIAC sticks (SIAC sticks will be available for hire).

Course Setter's Notes
All the details are in the information flyer. Enter by 2 September through Eventor.
The complete 2022 ACT MTBO Calendar is available here