Photos supplied by David Hogg: L to R: Celebrating a birthday 1978; At Kooyoora 1986; At Bowral 1988. Most of the text was also supplied by David Hogg.
Neville de Mestre began his orienteering career in Kowen Forest near Canberra in September 1976, becoming a member of Majura Macropods. He soon became a regular orienteer, was not put off by finishing last of the 47 competitors in M35A at the April 1977 Australian Championships at Orroral Crossing after spending just under four hours on his course, and a few months later was regularly among the top few finishers in M35 at local ACT events. He won that class for the first time at Mount Ainslie in April 1978, by which time he was a member of the newly formed Northside Navigators club.
Later that year he became involved in event organisation, being organiser of a Badge event at Turallo Creek on 13 August in challenging weather conditions. He then became involved in mapping, working with Trevor Dowling to produce the Jumping Creek map (east of Googong Dam) for the two-day 1979 ACT Championships, and was course planner for that event. These experiences began a long career with the technical side of orienteering. Read his hilarious story about that event here.
While Neville sometimes attended ACTOA Committee meetings as a Northside Navigators representative, he managed to avoid being elected to the Committee, but he was regular contributor to the ACTOA Newsletter with articles relating to technical matters, including one in June 1983 advocating for the payment of mappers, which was agreed at the 1984 AGM. He devoted his committee time to the national level, chairing the OFA Technical Committee from 1982 to 1988 and being elected OFA President from 1988 to 1990.
Neville established himself as a leading competitor in his age class in 1984, winning M45 that year at both the Australian Three-days and the Australian Championships. He was usually in the top bracket of competitors in national events, and was selected in the Australian team for the Australia–New Zealand Challenge on several occasions, starting in 1981.
Many older orienteers will remember Neville for his role as 'the Ambassador' in hosting the 'Ogies' presentations at the social event held during the Australian Championships Carnival from 1979 to 1992. Presented in a humorous vein, the Ogies were awarded for 'memorable incidents in Australian orienteering' which many of the recipients themselves may prefer to forget. These incidents were described in detail on the night and afterwards reported in the Australian Orienteer.
Outside orienteering, Neville had a successful academic career in mathematics which resulted in him moving to the Gold Coast in 1989 to take up an appointment at Bond University. The following year, he was involved with his wife, Margaret in founding a new club on the Gold Coast, Paradise Lost Orienteers. With a competing interest in surfing, his involvement in orienteering gradually declined and the Ogies ceremony eventually died out, but he remained an occasional competitor at orienteering events for many years.
As well as making a significant contribution to orienteering at the highest level, Neville also had an involvement in the Canberra Mathematical Association and the Australian Association of Mathematics Teachers, including as a regular contributor to Australian Mathematics Teacher [the AAMT professional journal].
Neville was born on 15 June 1938 in Wollongong and passed away peacefully on the afternoon of 24 May, with Margaret by his side.
Funeral Details
All are warmly invited to Neville's funeral service at Hillside Chapel, Palmdale Lawn Cemetery & Memorial Park, 57 Palmdale Rd, Palmdale on Wednesday 1 June 2022 at 1:30pm.
For those who wish to live stream Neville's service please visit palmdalegroup.com.au/scheduled-funerals-palmdale/. A copy of the service will be available to view for 10 days after it is held.
No flowers please, but Neville would have loved donations to The Smith Family's learning programs.
If you will be attending in person, please let Emmi de Mestre know by email to by Tuesday morning.
For those who cannot attend in person, but would like a short tribute read, please send a copy to by next Tuesday afternoon.
If you would like to send a card to Margaret or the family, please address it to
Nicole de Mestre,
9 Rhodin Drive,
Long Jetty NSW 2261.
Northside Navigators Neville
Neville in NZ 1983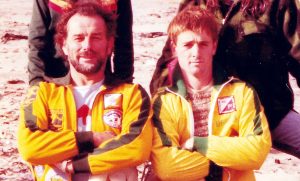 Neville the Ambassador