The Runners Shop Twilight Series will resume this Wednesday 30 January, with round 10 at Black Mountain South.
Current series leader Martin Dent (pictured right) is the course planner and has set the following courses: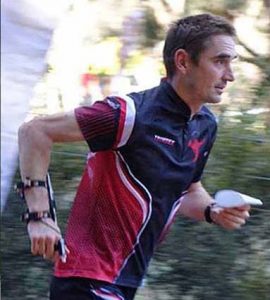 Orange 1 (5.6 km; 16 controls)
Orange 2 (3.0 km; 10 controls)
Green (2.7 km; 8 controls)
Blue (2.0 km; 11 controls; Snow Gums map at 1:5000 scale)
A special training map will also be available for the orange 1 course.
Event details are here, please take note of the specific parking instructions.
With six rounds remaining Dent leads David Stocks by just 4 points, with Andrew Kerr and Toni Brown only one and two points further behind respectively. Complete standings after nine rounds are here.
Season passes for the remainder of the series are available on Eventor.
Membership renewals for 2019 are also due. If you are an existing OACT member you can renew your membership via Eventor. If you have never been an OACT member, but would like to join for 2019, please follow these instructions to join and regiser through Eventor. For more information see the OACT membership page or email the OACT Office.