The 2018 Orienteering ACT Annual Dinner was held on Sunday the 25th of November. Awards were presented to acknowledge those who had made exceptional volunteer contributions, and for competitive achievements in 2018. See below for a list of award winners and citations. Thank you to Valerie Barker for organising and hosting the evening, and to Tom de Jongh for providing the photos accompanying this story.
Services to Coaching Award
Shannan Forrest
Many of you are aware that Shannan and her husband Nathan have previously been recognised for the outstanding work they have done with the development and delivery of the very successful Map Mates program.
This award, however, goes to Shannan in her own right, and is explicitly for her contribution to the Keep up with the Kids Program, which has targeted beginner adults, often those who, like so many of us, began orienteering only when (or after!) our own children became interested in the sport. Keep-Up was primarily aimed at parents of children participating in the Map Mates and/or SCORE programs as well as other beginner adults.
Shannan delivered a well developed, progression based series of training opportunities to this group of adults keen to learn. Her commitment extended beyond this by spending significant time out on maps with members of the group, working with them, shadowing them and supporting them right through the process. As such it provided a perfect introductory program –and, we note, in providing this support, Shannan effectively gave up a period of her own competition in the Saturday program.
A list of prior recipients can be found here.
Jim Sawkins Award for Event Management
Marina Iskhakova and Fedor Iskhakov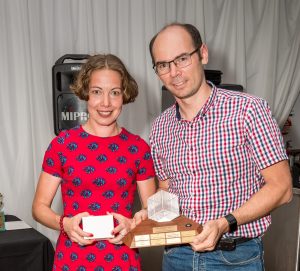 Marina and Fedor arrived in the ACT from Russia via Sydney and possibly many other places in July 2016. They immediately became immersed in orienteering in the ACT, so much so that in August of 2016 they organised the ACT/NSW Ski Orienteering in Perisher Valley.
Later in 2016, Marina convened a meeting of interested parties to plan and develop an extended MTBO program for 2017. This meeting resulted in a series of MTBO events being held in the ACT for the first time in many years. Whilst Marina and Fedor were responsible for only one event in the series, they were the driving force behind selecting areas, organisers and course setters for the series. They also provided much needed assistance with the running of the ACT MTBO championships in 2017.
It was their initiative that saw the NSW Scholar come to the ACT to provide a coaching weekend for ACT MTBO riders. This involved both practical exercises in terrain and also a theory evening at their home. By this time, Marina and Fedor had taken on full responsibility for the development and promotion of MTBO in the ACT.
They once again held planning and organisational meetings for 2018, which saw an increase in participation in the ACT. 2018 finished with a highly successful ACT MTBO Championship weekend which was also the final round of the Australian MTBO NOL races and the first round of the 2019 World Masters MTBO Series. Marina and Fedor were responsible for planning and organisation of the Long Distance race and were heavily involved in the overall organisation of the weekend.
In his spare time, Fedor has also designed some new MTBO controls which should make running the 2019 series of events much simpler.
Both Fedor and Marina also organised and ran the Ski-O championships in both 2017 and 2018 in conjunction with Big Foot Orienteers from NSW. These events continue to attract bigger crowds each year.
The enthusiasm and attention to detail that Marina and Fedor have put into both MTBO and Ski-O since arriving in the ACT certainly exemplifies the skills and expertise that Jim Sawkins brought to event management.
A list of prior recipients can be found here.
Mike Cassells Award for Services to Orienteering
Bryant Allen
Bryant has for many years been a highly active member of OACT across all facets of the sport. He is a member of the OACT Board, President of Parawanga and a regular organiser and course setter for events. He participates in events from street orienteering through to ACT Championships. As a member of the OACT Board he has undertaken a key role in coordinating mapping, especially for the programs delivered in the schools.
He leads Parawanga extremely well ensuring that events for which Parawanga is responsible are well resourced with helpers and are well organised. His approach to the leadership of Parawanga is consultative and friendly, yet with the right amount of direction to enable the club to be prepared to honour the club's commitments to event management. Bryant is always one of the first people in OACT to step forward when volunteers are sought.
He is a worthy recipient of this award – as a competitor, fieldworker, organiser, course planner, controller and administrator.
A list of prior recipients can be found here.
President's Awards
The tradition of a President's Award was started by Mary McDonald in 2014. The beauty of such an award is that there are no selection criteria and so it can be quite flexible. The awards acknowledge the work of those who contributed outside of the expected club member commitment of organising and course setting. A list of prior recipients can be found here.
Sabrina Sontag
Sabrina Sontag first volunteered when as a new parent of a Map Mates participant she answered the call for someone to help calculate the scores each week. She resurfaced years later when she engaged with Shannnans successful Keep Up with the Kids programme. When South Australia sought volunteers for the Invitation Camp she enthusiastically ran the Come and try it sessions in the caravan park there. And whilst still a new orienteer ( my guess is that she has done less than twenty events) she has agreed to coordinate the list of attendees at the Orienteering Australia December Development Camp
Cathy Hogg
Cathy Hogg has almost single handedly organised and course set the Primary School Champs for the last few years. She has also been on the ACT Schools Team selection panel for several years , has presented guest coaching sessions to the Blue Lightning squad , and delivered an Injury Prevention talk to a packed audience at the SA Invitation Camp. When you look closely she has also taken under her wing the coaching of a couple of fledgling cockatoos .
Susan Hallissy
Susan Hallissy is the Blue Lightning Squad manager. Under her capable direction the squad numbers swelled to the point where we had more applications for the ACT Schools teams than positions. She has provided great leadership in this position and in addition she initiated a mail chip RSVP arrangement that enabled easier car pooling for those attending training sessions.
Andrew Hobson
Andrew Hobson may not be obsessed with Orienteering but he has enthusiastically undertaken to help plan the budget for Oceania 2019. His projections, forecasts and excel sheets are impressive to say the least and his assistance to the board in this regard has been very much appreciated.
David Stocks (President's Young Persons Volunteer Award)
David Stocks who has taken time off from school to attend Trophy Presentations at SCORE, mentored new Radford Juniors and provided leadership on the ACT Schools Team. He has shown a genuine commitment to the development of others and has completed several mapping projects from Year 7 onwards.
Wehner Cup
Matthew Crane won the Wehner Cup for ACT orienteer of the year for the second time, having previously won in 2012.
The top ten points placings for 2018 are:
| | | |
| --- | --- | --- |
| 1 | Matthew Crane | 788 |
| 2 | Patrick Miller | 781 |
| 3 | Andrew Kerr | 780 |
| 4 | Ian Prosser | 778 |
| 5 | Martin Dent | 775 |
| 6 | David Stocks | 771 |
| 7 | Ella Cuthbert | 765 |
| 8 | Ann Ingwersen | 763 |
| 9 | Ana Herceg | 762 |
| 10 | Toni Brown | 748 |
Age Class Awards
| | | |
| --- | --- | --- |
| Class | Female | Male |
| Sub-Junior | Ella Cuthbert | Andrew Kerr |
| Junior | Caitlin Young | Patrick Miller |
| Open | (no winner) | Paul de Jongh |
| Master | Alison Inglis | Matthew Crane |
| Super Masters | Ann Ingwersen | Ian Prosser |
| Improvers | Caitlin Young | Toby Lang |