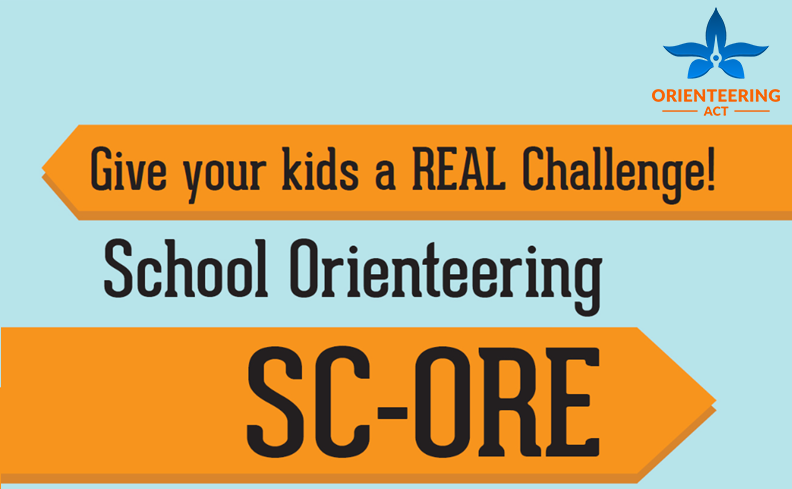 School based relay team challenge for children in years 3 to 6.
SC-ORE is an Orienteering Interschool Challenge for teams of 4 children
TEAMS:
AGES:
DATES:
TIME:
COST:
QUESTIONS:
Two Boys and Two Girls per team
Open to children in Years 3 to 6
Twice a year. Autumn series in March, Spring series in October.
Four Thursday Mornings before school, 8am - 9am. Get those bodies and brains going!
$20 per child (covers all 4 events)
Autumn SC-ORE (currently closed)
Spring SC-ORE (closes 12 Oct 2017)
Future SC-ORE dates and locations
Spring SC-ORE '17
| | | | |
| --- | --- | --- | --- |
| Thur | 19/Oct/17 | SC-ORE #1 | North Ainslie PS |
| Thur | 26/Oct/17 | SC-ORE #2 | Ngunawaal PS |
| Thur | 2/Nov/17 | SC-ORE #3 | Emmaus |
| Thur | 9/Nov/17 | SC-ORE #4 | St Thomas More's PS, Campbell |
| Thur | 16/Nov/17 | Back-up | In case of postponement for bad weather |
| Wed | 22/Nov/17 | PS Champs 2017 |   |
Autumn SC-ORE '18
| | | | |
| --- | --- | --- | --- |
| Thur | 8/Mar/18 | SC-ORE #1 | |
| Thur | 15/Mar/18 | SC-ORE #2 | |
| Thur | 22-Mar-18 | SC-ORE #3 | |
| Thur | 29/Mar/18 | SC-ORE #4 | |
| Thur | 5/April/18 | Back-up | In case of postponement for bad weather |
Spring SC-ORE '18
| | | | |
| --- | --- | --- | --- |
| Thur | 25/Oct/18 | SC-ORE #1 |   |
| Thur | 1/Nov/18 | SC-ORE #2 |   |
| Thur | 8/Nov/18 | SC-ORE #3 |   |
| Thur | 15/Nov/18 | SC-ORE #4 |   |
| Thur | 22/Nov/18 | Back-up | In case of postponement for bad weather |
| Wed | 28 Nov/18 | PS Champs 2018 |   |