Event 2 - Australian Long Distance Championship
Location: Lismore Road, Cootamundra
approx. 20km south of Cootamundra; 90km north of Wagga Wagga
Map: Winona, 1:15 000, 5m contours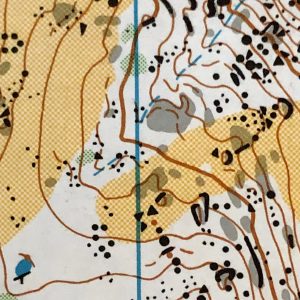 Terrain: extensive native bushland with significant granite rock features, some very large, across the whole map. Many steeper and more technical areas above open farmland.
Travel directions and parking
From central Wagga Wagga travel north for 88km on the A41 Olympic Highway through Junee and Bethungra before turning right at Lismore Road. 
From central Cootamundra travel south for 11.5km on A41 Olympic Highway before turning left at Lismore Road.
From the turn-off follow Orienteering signs 2km east on sealed road to a cattle grid, then continue to follow signage to the designated parking area and park as directed by officials.
Registration and start
Registration: will be open from 9.00 am. EOD registration closure time TBC.
Note: This event is a WRE for MW21E but not MW20E – IOF athlete IDs must be provided as a 'service' on Eventor at the time of entering.
Course information
Course format: Long distance
Courses: Courses are being structured to achieve long distance winning times based on M21E of about 80-90 minutes.
Classes
Oceania eligibility: competitors must confirm that they are a citizen of either Australia or NZ to be eligible for official Oceania championships. 
All the following classes will be available:
A Classes
MW10, MW12, MW14, MW16, MW18, MW20A, MW20E, MW21A, MW21E,
MW35, MW45, MW50, MW55, MW60, MW65, MW70, MW75, MW80, MW85, MW90, MW95
A Short Classes
MW21AS, MW35AS, MW45AS, MW55AS, MW65+AS
B Classes
M/W10N, MW Junior B, MW Open B, MW Easy, MW Very Easy
Enter on Day
EODH, EODM, EODE