The Blue Sparks are the group of parents and coaches who provide activities like Map Mates and SC-ORE, for Primary School aged children AND their parents. We are part of Orienteering ACT and we teach parents as well as children.  While the children predominantly range in age from 7 to 13, children who are older and younger are welcome to take part.  Blue Lightning is our older cousin. We have cool shirts for sale if you want one.
Map Mates
⭐ Ideal "starter" pack. 4 week adventure series. Every May and October. Teams of 1-4. Perfect for beginners. Parents welcome.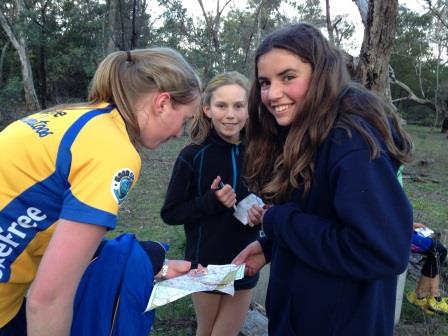 FOG - Focus on Girls
The training group for women and girls. 3 week course held twice a year. A great confidence booster. Social and fun. Parents welcome.
SC-ORE
⭐ Good for beginners. School-based, school-safe. Exciting team relay. Before school for 4 weeks. Twice a year. Teams of 4. Electronic timing.
Blue Sparks Annual Calendar
| | |
| --- | --- |
| February | Summer Wednesday Evening Twilight series resumes. Easy courses available. |
| March | SC-ORE  mini inter-school competition. Before school. |
| April | Summer Twilight series ends |
| May | Winter Saturday Map Mates series begins. |
| June | Winter Saturday & Sunday events continue. Easy courses available. |
| September | Winter Saturday series concludes. |
| October | Summer Wednesday Map Mates series begins |
| October / November | SC-ORE mini inter-shool competition. Before school. |
| November | Annual Blue Sparks Weekend Bush Camp – held annually since 2007. |
| November | Annual Primary School Champs |