30 Ski-Orienteers showed true courage and made heroic efforts in spite of particularly cruel weather conditions at Perisher Valley while fighting for 2022 ACT & NSW Ski-Orienteering Championships titles. For many it has been the first XC skiing event in 3 years, as covid put on pause the Ski-O Champs in 2020 and 2021.
The Championship was delivered in Rogaine format in 4 classes – Solo F (2hours), Solo M (2hours), Team (2hours and Juniors (1 hour).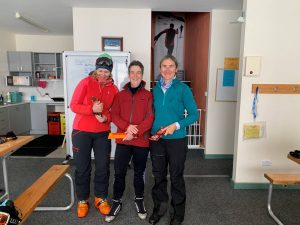 In the Solo F category Top-3 results were: Jenny McLeod (31p), Cath Chalmers (22p) and Martina Broder (19p).
In the Solo M category Top-3 results were: Iain Roberts (35p), Paul Cook (31p) and Robert Vincent (29p).
In the Team category Top-3 results were: Monica Binder and Bruce Barnett (32p); Sanda Halpin and Mary Ann Kulh (18p); Dom Pitot and Kirsten Pitot (16p).
In the Junior category Top-3 results were: Aoife Rothery (9p); Ariadna Iskhakova (8p) and Veronika Iskhakova (4p).
Full Results are published on Eventor (The first person indicates the correct Team's result in Team category).
Photos from the Championships are on the OACT Ski-O Champs Facebook page.
Lock in 13 August 2023 for your next Ski-Orienteering adventure!
OACT & NSW Ski-O Team