Welcome to our Members
Welcome New Members… Contacts for you all
It is my pleasure to welcome our new members to the club: some of you joined late last year, and others earlier this year. In particular, welcome back to David Just, and welcome to Antony, Jackie, Bella and Mika Moor; Alice, Matt, Cassius and Dorothy Westwood; Kane Johnson; Sally Kingsland, Ben, Julian and Harriet Williamson; Mary, Mike and Rose Biboudis; Corinne Vale, Paul, Amira and Otis Hibberd.
At this stage of the year we are updating members' details. Please check that we have the correct contacts for you. Would you please let Valerie know if there are errors, discrepancies or omissions.
Thank you for your continued support of our club. We do hope that you'll continue to be a part of the Bushies family in 2020. It is now time to renew your membership for this year, if you haven't done so already. The easiest way to do this is via Eventor. If you need assistance, please contact the OACT office ().
Welcome Swarm – 16th February
Thank you to the Terrill family – Silke, Greg, Zoe and Bodie – for opening their home to us all on Sunday 16th February. We did not have a large turnout, but there was a good cross-section of the Bushies membership present for a very enjoyable evening.
It is at this first swarm of the year that we present our 2019 Club Awards. Congratulations go to:
Matt Stocks, winner of the Ian Booth Master's Improvers Award
Previous winners have been:

2018 Chris Anderson
2017 Anita Scherrer
2016 Valerie Barker
2015 Chris Stocks
2014 Carol Harding
2013 Toni Brown
2012 Robyn d'Ascenzo
2011 Pauli Piiroinen

Alison Inglis, receiving the Blue Bottle Services to Bushflyers Award
Alison led the organisation of several major events in 2019, in particular over two days at the Oceania Carnival – always with a smile!
We were also pleased to present OA Merit Badges to the following people:
| | | | |
| --- | --- | --- | --- |
| Josh Robards | M14 Bronze | Justine Hobson | W16 Gold |
| Bodie Terrill | M14 Gold | Ellen Johnson | W16 Gold |
| Jordi Canadell | M16 Gold | Natalie Miller | W16 Gold |
| Roy Prosser | M16 Gold | Zoe Terrill | W16 Gold |
| Brendan Wilson | M20 Bronze | Ivy Prosser | W20 Silver |
| Jesse Piiroinen | M21 Bronze | Mary Bullock | W21 Bronze |
| Daniel del Dot | M21 Silver | Susan Hallissy | W45 Bronze |
| Greg Wilson | M45 Silver | Chris Stocks | W45 Silver |
| Tom de Jongh | M55 Silver | Nic Plunkett-Cole | W50 Bronze |
| David Jenkins | M60 Silver | Kelly Young | W50 Silver |
| David Poland | M60 Gold | Carol Harding | W55 Gold |
| Ross Stewart | M60 Silver | Robyn D'Ascenzo | W65 Silver |
| Pauli Piiroinen | M80 Gold | Coral Dow | W65 Bronze |
| Eino Meuronen | M85 Gold | | |
| Kevin Paine | M90 Gold | | |
These badges are awarded each year only if you improve within the class, or when you move up a class.
To find out more, check out the OA website.
If you have not yet received your award, it should be waiting for you at the next event you participate in – please check at Registration, or with me.
Bushflyers continue to perform very well at all levels of our sport: as competitors, organisers, course-setters, mappers and in administration. We are very pleased to welcome Greg Terrill as our second OACT Council representative, joining Matt Stocks. Greg takes over from Susanne Harryson (who, incidentally, is now managing the very successful SC-ORE program as well as her other work as OACT Development Officer).
At the OACT AGM on Thursday 27th February, a number of Bushflyers were elected to the 2020 Board: Peter Miller (Treasurer), Valerie Barker, Jane Barnett and David Stocks, all as Directors. Paul de Jongh is our wonderful Go To person in the OACT Office, Jesse Piiroinen is the face at the computer over the summer twilight and winter Saturday events, and you will often see Tom de Jongh taking photographs at events.
2020 – Your club needs you!
A big Thank You goes to everyone who has assisted with the Bushies – organised ACT Twilight orienteering events over the summer season: at Remembrance Park, Mt Taylor, the Campbell Parklands, and just last week a very challenging sprint at Radford College. Thank you to the Wilson family for testing us all so well! The summer was certainly a challenging and difficult time for many of us with so much uncertainty due to bushfires, the ongoing smoke haze, the 20 January hail storm, and unexpected downpours. Thank you to those who put their hands up to assist; the events could not have run so smoothly without you.
This is now a call to all members for assistance with our Orienteering ACT 2020 Main Program events. Organisers, setters, controllers (for ACT League events) and on-the-day helpers all required! Matt Stocks, who coordinates the roster, has just sent around a request for help. Please consider how you might contribute. Every hour that you are able to volunteer ensures a more successful and enjoyable event for everyone.
More generally, if you don't have experience in a particular role, offering your assistance is a great opportunity to learn new skills and support our sport. I challenge you to give it a go! Don't sit on the sidelines; we'll support you along the way. Just let us know if you need a bit of extra guidance. And don't forget – all helpers will have the chance to run on the day!
Bushies Uniforms – New Order Details Here!
Over the past two years we have redesigned our Bushies O-top, and also introduced a Club jacket. Both look great and we have received quite a few compliments. If you would like to place an order, read on!
Please email your order (sizes(s) and quantities) to Valerie Barker () by SUNDAY 15th MARCH. This should mean that we have our new O-tops by late April, (although probably not for Easter) certainly before the OACT Saturday Metro Series starts. I will order a few extra, in case of sizing problems, but in general, it is not easy to exchange tops.
Cost: $65 – or possibly less, depending on the quantity ordered. Arrangement for payments for tops will follow.
Sizing – this is always the tricky part, unfortunately. You might like to go to the Siven (Bryzoz) website, especially if you have never had a Siven (or Trimtex) shirt before. If you have a Trimtex shirt, the sizing will be similar. In general, you are recommended to err on the side of ordering a size larger than you might usually choose.
As a rough guide (for women), I wear Trimtex Women's Small, I have a Siven XS, my usual clothing size is 8 (to10) and I'm 160cm tall.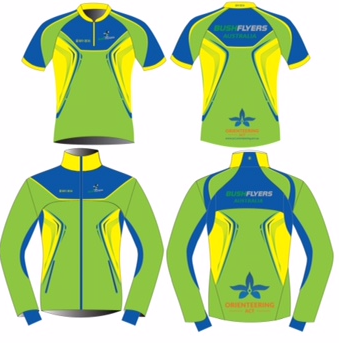 In the meantime, please remember that I have a small number of both the old-style and new Bushflyers orienteering tops and jackets at hand, if you would like to purchase them directly from me, as well as a few of the new jackets. They are as follows:
O-top new-style (as above) Cost $55:

Women – 4 x Medium; 3 x Large;
Men – 1 x Small; 2 x Medium; 1 x Large; 1 x X-Large

Jackets (as above) Cost $65:

Men – 1 x Small; 2 x Medium; 1 x Large; 1 x X-Large

Women – 4 x Med, 3 x Large

O-tops older style (Trimtex) – Women's XS (x 3), Men's XL (x 1) and will cost you only $40. (Many of us are still currently wearing these)
I also have two of our 'aprés-O' tops (a white t-shirt style), both Women's 12. Cost $15
One pair of three-quarter O-pants in Club colours, but no logo, Medium. $40
We also run an informal Children's O-shirt Library
Current stock is: 130cm (x 2 New); 140cm (1 x New; 2 x Used); 150cm (2 x Used). The new shirts are available for purchase if preferred.
If you have had shirts on loan from the Library that your child no longer fits or needs, please return these to me as soon as possible. (Please just find me at the next few events). If you have a Library shirt on loan – and you would like to keep it for the rest of the season, or for your next child – please also let us know, including the size of the top.
If you have any Bushflyers children's O-tops that you would like to pass on to other children to use, as a donation through the Library, these would also be much appreciated
Upcoming Events
The Australian Easter Carnival, 10 – 13 April, based around Orange and Molong, NSW comprises a range of events, including the traditional Easter Three-Days series and the Family Prologue/Sprint. This is followed by the NSW Middle and Long-Distance Championships at Eugowra the following weekend (18 – 19 April), and some sprint and score events mid-week as well.
The Easter events are significant selection events for our younger orienteers who have goals of JWOC, and World University Champs, and both weekends also offer challenging and exciting orienteering to competitors all ages. If you are competing, at whatever level, we wish you well. The Bushflyers banner will be flying at all events over both the Easter and following weekends – if you are there, please join us!
We plan to have a Swarm over the Easter weekend, probably on the Saturday or Sunday evening – this will be an informal meal together at a central location in either Orange or Molong, to suit the accommodation plans of the majority of us. I will give further details later, when I have an idea of how many Bushflyers are entered in the Easter events and where you are all staying.
Mongarlowe Map Madness, 28-29 March. This is a full weekend of training, competition, camping and socialising, including Mountain Bike Orienteering (MTBO) and Rogaining training, with some of our local (and national) best MTBOers and Rogainers! Thank you to the Brown/Poland family for their generous hosting of the weekend at Charley's Forest and Moon Cottage. Alison Inglis is the organiser for the Classic Series Middle Distance event on Saturday 28th – perhaps you might be able to assist her on the day?
Melbourne Sprint Weekend 7-9 March. A number of our members, especially our elite juniors, will be taking part in this outstanding series of events. Good luck to them all!
The Saturday Metro season starts on 2nd May; this is another Bushflyers event too.
2020 Orienteering Australia National Squads
Congratulations to the following Bushflyers who have been selected for 2020 National Squads:
High Performance Squad (HPS): Andrew Barnett
Australian Junior Development Squad (JDS): Patrick Miller, Tristan Miller, Noah Poland, Ryan Stocks, Caitlin Young
Targeted Talented Athlete Group (TTAG): Justine Hobson, Natalie Miller, David Stocks
A reminder
Bushflyers has a Facebook page. "Like" our page and keep up to date with what's happening in our club.
I wish you a happy and successful 2020,
Valerie Barker (Club Convenor)

6251 5459 / 0410 151 554
For Bushflyers Orienteering – where no-one gets left on the bench!