Orienteering pioneer and champion competitor for two decades, Kathy Saw, succumbed to cancer on Sunday morning.  Kathy was also a multiple rogaining champion, after she changed sports in the mid-1990s.
Kathy began orienteering in the mid-1970s and joined what was then the Red Kangaroos club, which was later re-named the Red Roos in the mid-1980s.. Kathy's navigational skills became obvious and she soon rose through the ranks to be the Australian W35 Champion in 1977.  Over the next 18 years she won either an Australian 3-Days or Australian Championships in her relevant age class:
1977 Australian Championships W35A
1978 Australian Championships W35A
1979 Australian Championships W35A
1980 Australian 3-Days W35A
1981 Australian Championships W35A
1982 Australian Championships W35A
1983 Australian 3-Days W43A
1984 Australian Championships W40A
1985 Australian 3-Days W45A
1986 Australian 3-Days W45A
1987 Australian Championships W45A
1989 Australian Championships W45A
1990 Australian 3-Days W50A
1991 Australian 3-Days W50A
1992 Australian 3-Days W50A
1993 Australian Championships W50A
1994 Australian Championships W50A
1995 Australian Championships W55A
In those days, there was only one Australian Championships format and that was what is now the Long Distance Championships, and there were only three masters classes, ages, 35, 43 and 56.. 
In December 1978, Kathy anchored a RK A team, which included Lorna Rowlands and Pam Christensen, to win the W35A class in the Australian Relay Championships at Murrimba Tops (Paddys River, Hume Hwy NSW).  Pictured below.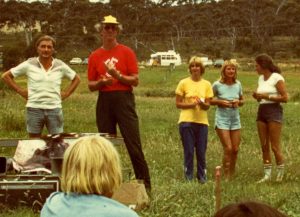 Following that feat Kathy was named in the Australian team to contest the 1979 Australian-New Zealand Challenge in the W35 class in New Zealand during May.  Kathy was named in numerous Australian teams, and in 1986 she was joined by her sons Andrew and Peter in the Australian-New Zealand Challenge held in South Australia, and two fellow Red Roos, Bob Allison and Trevor Hughes; see the featured photo.  All five were in winning teams in both the Individual and Relay Championships.
During the 1980s, Kathy and her sons were always in contention to win the Silva Orienteer of the Year competition, with one or two winning three years consecutively:
1982: Peter Saw (M12A), Andrew Saw (M14A)
1983: Kathy Saw (W43A)
1984: Andrew Saw (M16A)
Kathy also contributed to the administration of the sport, being a course planner and organiser for events, and she was the Head Roo (President) of the Red Roos in 1984 and 1985, which was when the Red Roos began their winning streak in the Championship Club competition.
By the mid-1990s, Kathy considered the Women's Masters orienteering courses were too short and she shifted her interest from Orienteering to Rogaining, another sport in which she excelled, winning many local and national Championships.
Pictured below is Kathy competing at Wilpena Creek in 1986 and in her Australian uniform.