Welcome to our Members
The Oceania and Australian Championships, and the Australian Schools Championships are now only a little over five weeks away; the events program runs from Saturday 28th September to Sunday 6th October. As always, a number of our Bushies members will be travelling down to Cootamundra/Wagga Wagga and Beechworth for part or all of the Carnival. The Bushflyers flag will be flying at every event, so if you are around, please make yourself comfortable whether you are preparing for and recovering from your event, or if you are part of our loyal spectating cohort.
ASOC Representatives
Congratulations to the following Bushies students who have been selected in the ACT Schools team to participate in this year's championships:
Senior Boys: Tenzing Johnson, Toby Lang, Tristan Miller, David Stocks, Brendan Wilson
Senior Girls: Ellen Johnson, Ivy Prosser, Caitlin Young
Junior Boys: Bodie Terrill, Josh Robards
Junior Girls: Justine Hobson, Natalie Miller, Zoe Terrill
It is wonderful that of the 20 ASOC team members, 13 are Bushflyers (note the strength of the Senior Boys!). And, by the way, two of the Team Officials – Jane Barnett and Tom de Jongh – are also Bushflyers. If you are in NSW and Victoria, please do your best to get to the ASOC events to support our team. The ACT Schools team has a proud history of performing very well at these championships, which always make for exciting spectating. In particular, the Schools Relay has become one of the highlight 'must-attend' events of the whole carnival.
Why not join us on Tuesday, Wednesday and Thursday, 1st- 3rd October, for the Schools Sprint, Individual and Relay Championships, and support these very important events for our junior orienteers.
Bushies Uniforms
I have just received our latest order of Bushflyers' O-tops and jackets; they look great!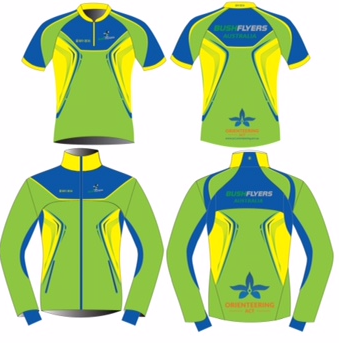 With our ACT Champs next weekend, and then these important national events coming up, it is timely for you to consider updating your Club uniform!
Current stock of these new uniforms is:
Children – O-tops: 3 x 130cm ; 1 x 140cm
Women – O-tops: 5 x Med; 4 x Large
Women – Jackets: 3 x Med; 2 x Large
Men – O-tops: 2 x Small; 3 x Med; 2 x X-Large
Men – Jackets: 1 x Small; 1 x Large; 2 x X-Large
O-tops cost $55 each and jackets $65
I have a small number of old-style tops at hand, if you would like to purchase them directly from me. They are as follows:
O-tops old style (Trimtex) – Women's XS (x 3), Men's XL (x 1) and Men's XXL (x 1), – only $30 each! (Many of us are still currently wearing these)
I also have two of our 'aprés-O' tops (a white t-shirt style), both Women's 12. Cost $15
One pair of three-quarter O-pants in Club colours, but no logo, Women Medium, $40
Children's Library (all used):
Bushflyers O-tops: 3 x 140cm; 2 x 150cm
Blue Sparks O-top: 1 x X-Small
2019 – More events from Bushflyers
Since our last mini newsletter in June, we have continued to present a number of events.
Kowen Forest, on Sunday 23rd June. Our highly experienced course setter, Ross Stewart, again provided challenging and interesting courses for us all. Thank you to Toni Brown as the event controller, and to Silke Speier and Greg Terrill, and their willing team of helpers, for organising this event.
27 July – University of Canberra. Organiser: Andrew Johnson; Course Planner: David Stocks
3 August – The Pinnacle. Organiser: Nic Plunkett-Cole; Course Planner: Peter Antcliff
And coming up:
Wee Jasper – ACT Middle Distance Championships. This is a brand new map, in our own 'Karst Country', perhaps the closest we shall get to favourite European orienteering terrain! Alison Inglis and Peter Miller are our organisers for the day, with the course being set by Darryl Erbacher (Parawanga). Are you competing for the Karst Cup?
At every one of these events, the Course Planner and Organiser have had a strong team of Bushflyers to assist. Thank you to you all for your willingness to contribute to the successful organisation of our events.
Thank you too, to Jesse Piiroinen, who is the face behind the computer at our Saturday events and at many of our classic events as well.
Oceania Championships – Special Event News
Bushflyers, in particular Alison Inglis and Peter Miller, are responsible for the organisation of two of the first three events at the Oceania Championships: the Australian Long Distance Championships (Sunday 29th September); and the Oceania Relays (Monday 30th September). Ross Stewart is the Course Planner for the Long Championships so we are assured of quality courses. Many Bushflyers have offered their assistance to Alison and Peter over these two big days – and I am sure that they will continue to welcome further offers of assistance.
For Your Calendar
Saturday 24th August: Final event, Saturday Metro series & ACT Schools' Championships
Saturday 31st August: ACT Middle Distance Championships, Carey's Cave, Wee Jasper
Sunday 1st September: ACT Long Distance Championships, Slap-up Creek, Jerangle
Saturday 28th September – Sunday 6th October: Oceania Carnival, including Oceania Championships, Australian National Championships and Australian Schools Championships, Wagga Wagga, NSW and Beechworth, Vic. Go to the Carnival website. Entries close on 31st August!
Sunday 24th November: OACT Annual Awards Dinner, Southern Cross Yacht Club
I expect there will be an informal Swarm as well at Wagga Wagga or Beechworth, during the Oceania Carnival. However, as I am committed to ASOC organisation this year, I will not be able to join you. Do watch for further information from other Bushflyers present at the Carnival.
OACT Contacts and Club Representatives.
The next Council meeting is on Thursday 29th August, at Wesley Uniting Church at 8pm. While we are well represented at the level of Board and Council, we remind you that all of you are invited to Council meetings. Please feel free to contact either Matt or Susanne if you have any ideas or thoughts you would like taken to these forums.
Board Members: Peter Miller (Treasurer); Valerie Barker, Jane Barnett, David Stocks
A reminder
Bushflyers has a Facebook page. "Like" our page and keep up to date with what's happening in our club.
Valerie Barker (Club Convenor)

6251 5459/0410 151 554
For Bushflyers Orienteering – where no-one gets left on the bench!