Over 1100 students from Gowrie to Gungahlin, from Queanbeyan to Curtin, have taken up the orienteering challenge this term.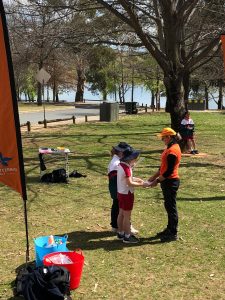 Orienteering ACT coaches have been working hard to bring fun, active learning experiences to primary and secondary schools students throughout our region. Schools such as Curtin Primary and St Monica's keep coming back for more, and there are plenty of new schools reaching out to us. Queanbeyan East, Girls Grammar Junior, Mt Rogers, and more, have all had their first taste. At Southern Cross Early Childhood School we delivered onsite to several excited K-2 classes, while at the other end of the spectrum St John Paul II College year 9/10 students experienced the challenges of both sprint and bush maps.
Schools seek our support not only to deliver the prescribed sporting schools programs, but also to expand their specific interests in adventure and outdoor education spheres. OACT's flexible programs provide options to suit all schools and teacher preferences.
Contact  to arrange for an orienteering programme at your school, or see here for more information on OACT's schools programmes.