Both junior Canberra Cockatoos teams have good prospects to win their respective divisions of the National Orienteering League. While all four teams are in the top two positions, the junior teams are either heading their table or equal top, while both senior teams are second, trailing the Victorian teams by 15 points, 89 to 74 and the gap maybe too big to bridge. If, as expected, the men's team do not win it will be the first time in eight years they have not won and fifth time in 24 years they were not the top team. The top three teams in all four divisions are in the table below.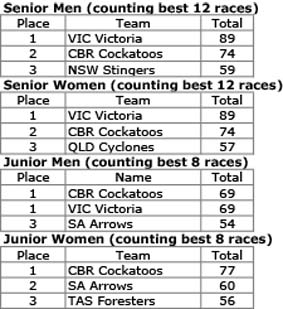 As to the individual divisions only Belinda Lawford has any prospects of winning her division. She is currently second in the senior women's division trailing Qld Cyclones Krystal Neumann on 225 points by nine points. With four races in the final round Lawford has an opportunity to win her first senior title. She won a record three straight titles in the junior division.
Australian Schools Championships.  The ACT team contesting the Australian Schools Championships will be seeking to defend the Overall Teams Competition title and repeat its achievement of 1991-93, in winning three years consecutively. However, they would be well short of NSW's seven consecutive victories in 1994-2000.
Eight Events in Nine Days.  With eight events in nine days, the secondary school age competitors will be tired by the end of the Championships. The full program of Championship events is:
Saturday 29 Sept : Australian Middle Distance Championships (NOL)
Sunday 30 Sept : Australian Relay Championships (NOL)
Monday 1 Oct : Australian Sprint Championships (NOL)
Tuesday 2 Oct : Australian Schools Sprint Championships
Wednesday 3 Oct : Australian Schools Long Distance Championships
Thursday 4 Oct : Australian Schools Relay Championships
Saturday 6 Oct : Australian Long Distance Championships (NOL)
Sunday 7 Oct : South Australian Middle Distance Championships (NOL)