Bushies Uniforms – New Order Details Here!
Thank you to those of you who have ordered new O-tops. They have taken a little longer to arrive than I expected, but our supplier indicated to me last week that they should be here within the next week or so – certainly in time for QBIII. (For those of you who are new, this is the annual three day event which ONSW hosts over the Queen's Birthday weekend. This year it is being held in the Rylstone area, just south of Mudgee). I will contact you with payment and collection details as soon as I can.
Several of you have asked about club jackets. I am pleased to be able to let you know that we have a design finalised, and I am ready to take orders. The jackets will cost $70 each, which is very good value. As you can see below, the design complements our O-tops, and is a modern style, such as is worn by our Australian representative teams.
Sizing – this is always the tricky part, unfortunately. You might like to go to the Siven (Bryzoz) website size-chart, especially if you have never had a Siven (or Trimtex) shirt before. If you have a Trimtex shirt, the sizing will be similar. In general, you are recommended to err on the side of ordering a size larger than you might usually choose.
As a rough guide (for women), I wear Trimtex Women's Small (in both O-tops and jacket), I have a Siven XS, my usual clothing size is 8 (-10) and I'm 160 cm tall. I am ordering Small for myself!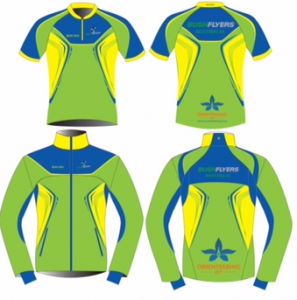 Please let me know if you wish to make an order – the sooner I can place the order (I need a minimum of five), the quicker we shall get them! Did you miss out on a new O-top? Please forward your order to me as soon as possible – remember that I need a minimum of only 5 for an order for either of our garments.
I have a few odd sizes of our old O-tops in stock – the only thing different is the OACT logo. They are X-S (x 3), XL (x 1) and XXL (x1), and will cost you only $50.
I also have two of our 'aprés-O' tops (a white t-shirt style), both Women's 12 (cost $15);
Two pairs of three-quarter O-pants (1 x Bushflyers Men's Small, $60; the other in Club colours, but no logo, Medium, $50)
2018 – More events from Bushflyers (already!)
The opening event for the ACT Metro Series, Junior League#1, (on May 5th) was organised by Bushflyers. One of our new members, Silke Speier, assisted by her family, Greg, Zoe and Bodie Terrill, was the Organiser for this event, held on a fine Autumn morning. Craig Cowan was our course-setter; he too had taken on this role as a first-timer. It is very encouraging to see our newer members step up to these important roles. On the day, they were ably assisted by Lil Bryant-Johnson, Ellen Johnson, Tenzing Johnson and Suzanne Harryson. The team would like to thank Paul de Jongh (OACT Office) for his assistance in preparation, and Jesse Piiroinen on the day with the computing. Random offers of assistance by other Bushflyers which were given through out the day were also much appreciated. Thank you to you all who managed the busy start to the season so calmly and efficiently! (Note that Jesse can be found behind the computer at all of our Saturday events – and often at other events too!)
Congratulations to the Bushflyers team who put on the ACT Sprint Championships at Canberra Grammar School on Saturday 12th March. This event was again a combined ACT/NSW event (AL# 5/NL#5), with almost 290 competitors. We again had a Junior Course-setter, David Stocks, who along with the support of dad, Matt Stocks, produced interesting, varied and challenging courses, utilising a small complex area with ingenuity (and up to three maps – using double sided and exchanged maps!). Thank you to the organiser, Anita Scherrer (and the Controller, Keith Fifield, of Red Roos), who even managed the weather. The rain just held off, although the slippery ground necessitated careful footwork. Such an event is months in the preparation – thank you to all of you who helped out on the day too – setting up the arena, at the Start and Finish, collecting controls etc. We could not have done it without you!
And to continue on the Bushflyer event roll, last Saturday's Metro Series event at Farrer Ridge (Junior League #3) was the work of even more of our Club members. Thank you to Hannu Mannering for his course-setting (which provided some challenges in the rough green areas of the map!), and to Michael Mitchell as the event organiser. They were also ably assisted on the day by other members of the club – thank you to you all!
Our next big event is at Ballinafad Creek, on Sunday June 24th; the course-setter is Ross Stewart, and the Organisers are Valerie Barker and Ari Piiroinen. This is a great area, and we look forward to a strong turnout on the day.
The Easter Australian Three-Days event in Tasmania, and the following three-day Bay of Fires event at St Helen's already seems a long time ago. There were a small number of Bushflyers who headed south to enjoy this major carnival. As I have indicated before the events are significant selection events for several of our younger orienteers who have goals of Junior World Orienteering Champs (JWOC), and World University Orienteering Champs (WUOC), and both weekends offered challenging and exciting orienteering to competitors of all ages.
Representative News
Congratulations to the following Bushflyers on their 2018 Australian Representative selection:

Patrick Miller (JWOC Hungary, 8-15 July)
Andrew Barnett (WUOC Finland, 17-21 July)
We wish both Patrick and Andrew all the best as they continue with their training and preparation for these two very important events. Closer to the time we will forward you links to the event websites – it is really exciting to be able to 'watch' the races in real-time!

A number of our juniors, members of the Blue Lightning squad, are preparing for their final selection race (Sunday 3rd June), for the ACT Schools Team to compete in the Australian Schools Orienteering Championships (ASOC), in South Australia in September/October. Team membership is keenly contested, and ASOC is a highlight of the Australian Orienteering Championships carnival every year.
OACT has just announced the ASOC team officials for 2018 – and they are all Bushflyers! Congratulations and thank you to the following for their commitment to the ACT team at ASOC; we know that they will ensure that all team members have a wonderful time as they compete.
Jane Barnett (Manager); David Poland (Coach); and Tom de Jongh (Assistant Manager)
Coming Events
A number of Bushflyers are travelling to New Zealand this coming weekend, to participate in NZ's Queens Birthday events north of Auckland – on those challenging sand-dunes! Several of our Juniors are travelling, and we particularly wish them well.
Similarly, a few families are heading to the Rylestone area (near Mudgee) for the annual NSW QBIII event. The Bushies banner will be flying, so please join us to enjoy each others' company over the weekend. We shall be having an informal Swarm as well (probably on the Sunday evening in Kandos), so we hope that you can join us. If you would like to attend, please contact Jenny Hawkins (0438 613 509) by phone or text. We'll make sure that you all get the final details over the weekend; these get-togethers are always important occasions over multi-day events such as QBIII.
A reminder
Bushflyers has a Facebook page. "Like" our page and keep up to date with what's happening in our club.
OACT Contacts and Club Representatives
The next Council meeting is this Thursday 31st May, at Wesley Uniting Church at 8pm. While we are well represented at the level of Board and Council, we remind you that all of you are invited to Council meetings. Please feel free to contact either Matt or Susanne if you have any ideas or thoughts you would like taken to the forums.
Board Members: David Poland (President); Peter Miller (Treasurer); Valerie Barker, Anita Scherrer; Jo Hobson; Jane Barnett
Valerie Barker (Club Convenor)

6251 5459/0410 151 554
For Bushflyers Orienteering – where no-one gets left on the bench!