Street orienteering is a fun way to get fit and practise orienteering skills. It is open to both walkers and runners.
Beginners and first timers and not-so-fit people are especially encouraged. It can be done as an individual or in groups of 2 or more, and is a great navigation activity for scouts.
Family groups and teams of secondary school students are most welcome. Please bring a friend and participate.
Register at the event each Monday between 5.30pm and 6.00pm; beginners briefing at 6.10pm; everyone starts together at 6.15pm.
20 controls are marked on your map and sited as described in the control descriptions section of the map. When you visit a control, you need to punch the corresponding square on your control card as proof that you went there.
* for the walkers' course, you visit as many controls as you can within 1 hour. Running/jogging is not allowed and there is a penalty if you arrive late
$5 adults      $2 children      $10 family
Frequently asked questions
Can I bring a pram?
Do I need a torch?
How long does it take?
Do I need a compass?
Can I do the event on my bike?
Is there free watermelon afterwards?
Absolutely.
For the winter events, yes. Summer events no.
Most people take about 45 mins. There is a time limit of 1 hour for all courses.
No. Most people don't use a compass.
Yes. Doing Street-O on a bike is fine. You'll be a separate category from those on foot though!
You can count on it!
Here is an example Street-O map. The maps are almost always printed in Black & White. The start is marked as a Triangle, each Control is a circle with the corresponding control number.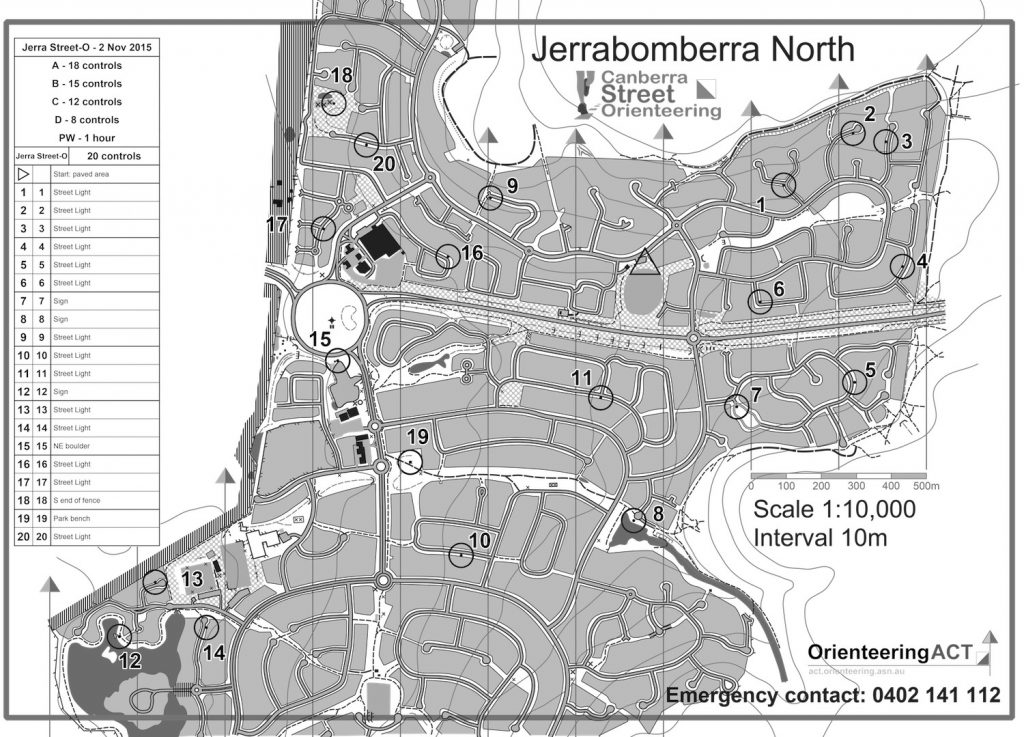 Street-O Course Planning and Organising
Course setting and organisation for street orienteering events is relatively easy, especially if doing so for a suburb close to home. All regular participants are encouraged to volunteer periodically (unless you are already heavily involved in organising other orienteering events).
Street-O Course Planning and Organising
Street-O Maps (you'll need to turn off other map layers)