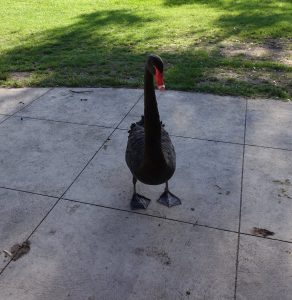 There was a hilarious start to the finale of the OACT Summer Series when several swans wandered up to registration and even pecked the plastic equipment tubs. Shannon Jones said that her course planning was limited on the eastern side of the peninsular by a profusion of blackberry growth down to the water line; nevertheless she did a great job of providing fast and furious legs made the more enjoyable by superlative sunny early autumn weather and a comfortable 22 degrees. There were quite a few first timers and beginners who complimented the organisers on a wonderful intro to orienteering. And several secondary school age juniors could not resist a dip in the lake after finishing.

View photos from the event here: Photos at Black Men Peninsular Sprint
Many ACT orienteers are heading to Melbourne this weekend for the 6 event Melbourne Sprint Series while locally street orienteering continues on Monday at 6.15pm at Deakin.